Successful seasons are surrounded by routine boat maintenance.
With spring just around the corner the bigger vessels of the Great Lakes are being thought of and prepped for their season. Here is simple top 10 checklist of easy routine maintenance tips you can do yourself to help ensure a trouble free season in 2020.
Engine Oil.  Unless you're running a 2 stroke on your boat engine oil is cheap and easy maintenance that any one can accomplish. CHANGE YOUR OIL! 
We recommend a good engine oil that is FC-W certified.  Certain automotive oils may serve a purpose, but FC-W Certified oils are designed for higher RPM and higher corrosion environments that boats fall into, even in Fresh Water.  We change our engine oils at 75 hour intervals during the season and after we winterize the boats for the season.  This way they are ready to go in the spring. A quick tip would be to buy a simple pump that mounts on the dipstick.  Check out this Jabsco Fluid Pump to make your oil changes a lot easier.


Transmission Fluid/Drive Gear Oil Changes. Again cheap simple maintenance you can do without breaking the bank.  We recommend a synthetic blended or fully synthetic version of what is required of your engine or transmission.  This helps lengthen the time needed in between changes and also cuts down on the fluid breaking down due to heat.  Complete these changes around 100 hour intervals on inboard transmissions and around the same for your outdrive or outboards lower units.


Impellers.  Impeller changes are crucial to your boat operating at its required temp.  I see more and more boaters with heat up issues due to not changing these out regularly.  On an inboard setup they are not hard to change and can be done with the boat in the water.  They should be replaced at minimum once per season.
On Outboards and Sterndrives we would recommend at least starting the season with a fresh impeller because if you start to experience some higher operating temps a lot of these boats will require you to pull them to replace the impellers in the drives foot. On outboards make sure you are getting a stream of water out of them as well, mud bees love to clog up the exit port for your cooling system.  zslso check all of your engines cooling inlets to check for zebra mussels that notoriously clog up water ports.


Spark Plugs should be replaced every season.  They are inexpensive and are right at the heart of your engine.  We know many boaters have made the switch to the Iridium spark plugs, but many marine mechanics swear to just swap plugs annually with a solid OEM plug (we prefer NGK or AC Delco) and be good to go.  Accompany this with new plug wires and distributor cap and you will eliminate most ignition problems season to season.  Be sure to check your gaps with a SPARK PLUG GAUGE.


Belts on your engine should be inspected regularly.  V-Belts and Serpentine belts will wear over time and can break.  Generally when this happens you'll lose your engines alternator, cooling pump, or both and you're more than likely needing a tow home. So check your belts from time to time.


Wash & Wax.  Our boats go through a lot throughout the season.  The UV damage from the sun is quite harmful to fiberglass and aluminum if you are not keeping up with the boats exterior surface.  There are a ton of good cleaning products out on the market to help keep your boat shining even in that late August sun.  We also recommend a good random orbital buffer or rotary buffer to help get rid of any oxidization you should encounter.  Too large of a job? Seek out a professional detailer to keep your boat shining like new.


Batteries in your boat should be checked each season.  We cannot tell you how many boats sit at the dock constantly plugged into shore-power and battery maintainers.  Here's a tip…your boat should not go dead overnight if it is not in use.  Even running auto pilots, downriggers, fish finders, radios, ect you should not be going past your boats alternator amperage and draining batteries every day while trolling.  If you are you either need a higher capacity battery or need to look over your boats electrical system and fix some errors. It is ok to periodically plug your boat in at the dock with the purpose to charge your running batteries. A good interval on changing batteries is 3 years. Most good marine batteries come with a 12-24 month free replacement should they fail.


Steering Mechanism, Shift and Throttle Cables should operate smoothly.  Checked for drag.  Cables can be easily replaced for under $200.  If you have hydraulic steering, check your fluids and cylinders for leaks.


Bilge Pumps and float switches. We recommend at a minimum ensuring they operate.  A lot of newer pumps have a test button on them. Also check your through-hull fittings for any wear. The sun beats them up badly and they can become very brittle over time if they are plastic.  A quick change to a brass or stainless through-hull on your water line adds value and security to your boat if one is not already in place.  If in question, replace your bilge pump or check for clogs around the impeller.  Most good pumps will have a strainer to prevent impeller failure.


FUEL.  Even on the Great Lakes, many of our fuel docks still are selling fuel with 10% ethanol.  While this is troublesome, there are certain marine fuel additives that can be put into our fuels where you're stuck with what is available.  Star-Tron is a top rated marine fuel additive that helps with ethanol fuel with separation and also helps small amounts of water move through the fuel systems. You should also change out your water fuel separators every oil change throughout the season.  This will cut down on any fuel related issues.


**Honorable mention: a visual inspection of your boats exterior prior or just after lay-up is also a really good idea to see how it survived the season and storage. Check the hull, bottom paint, props, and any other running gear to make sure everything looks to be in order and operational.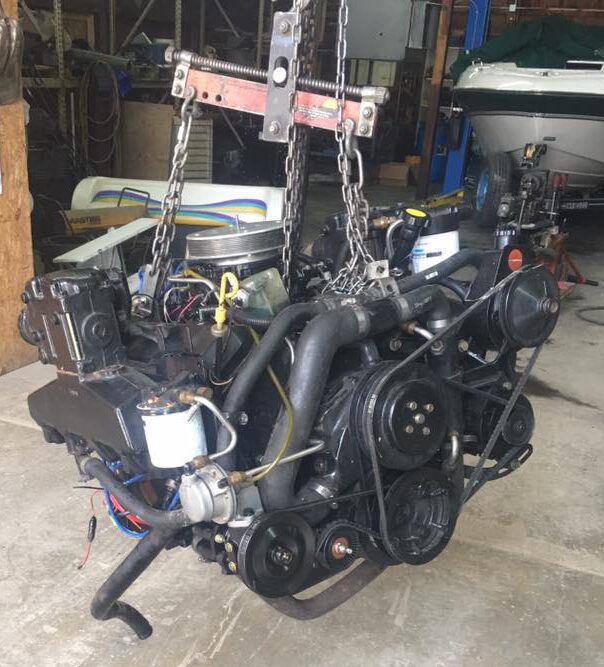 Follow these simple steps this season to help prevent breakdowns due to negligence. Boats in general can be very temperamental due to the environment they are exposed to during use we should do every inexpensive form of maintenance to pervert the costly and defeating catastrophic failures that can occur.