The recent heat wave that has been smoking the Great Lakes region has been spiking water temperatures. Lake Ontario and Lake Erie are already beyond their record high temperatures.
The remaining lakes, Huron, Superior, and Michigan all are 7-12 degrees above their average temperatures. These temperatures over the 5 Great Lakes will continue to rise. Most of the lakes hit their highest temperatures in August.
Statistical Data can be found here from NOAA.
Lake Michigan's Icy Cold Eastern Lake Shore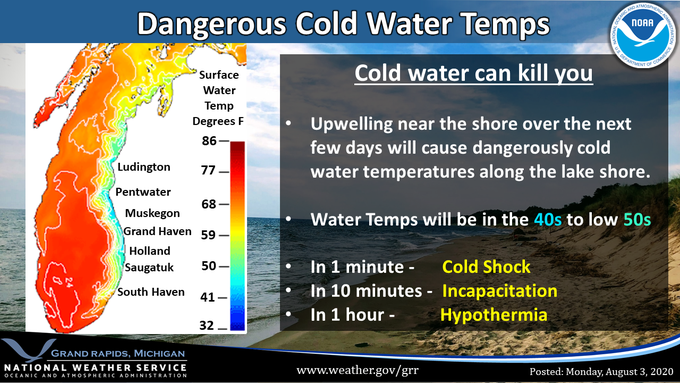 Lake Michigan as of Monday (8/3/2020) has seen water flow causing an upwelling on the eastern shores. Water temperatures from Ludington to South Haven will be in the 40s to low 50s, according to the NWS. While the air and water temperatures across the lake are well above average, this cold water can kill.
Concerns
Main concerns with the higher than average temps there is a concern to aquatic life. Most fish in the Great Lakes do not do well in warm water and while bottom temperatures may appear to be cooler, they often do not have enough oxygen to sustain life.
Toxic algae blooms are also a concern. While common in Lake Erie and Lake St. Clair, the above average temps will begin the blooms sooner and likely keep them around longer.
Lake Erie Harmful Algae Bloom Forecast.
Lake Effect Snow This Winter?
Lake-effect snow occurs when air that is significantly colder than the water crosses the lakes. Will the Great Lakes' warm water temperatures mean more lake-effect snow in fall and winter? It is possible that the above average lake temps may stay elevated well into the start of winter causing more snow fall around the Great Lakes regions once the much colder winter air starts to move in.