Charter fishing is nothing short of a labor of love. From the Atlantic to the Great Lakes, great captains put their hearts and soul into their businesses, boats, and equipment. The work that exists outside of actually taking clients fishing is incredibly tedious and requires a certain type of mindset. An incredible amount of time is spent rigging rods, organizing tackle, and maintaining boats both before and during a season is incredibly time consuming. You often wonder, what makes someone want to do this? After getting this small piece below from Capt. Andy Landon of BlindSided Sport Fishing, you can see how easily many captains go from client to captain.
As winter winds down, all the charter boats and avid fisherman anxiously await the start of the 2020 walleye season. Hello, my name is Capt. Andy Landon of BlindSided Sport Fishing. My love for fishing Lake Erie started about 8 years ago when I took my first charter on this beautiful lake. Little did I know I was taking my very first trip on the very boat I operate today. My long time friend, captain., and inventor of the Tru-Trip Deep Diver, Dan Heyne took me out on my first Lake Erie Charter and I was flat out hooked.
I fun fished Erie the 3 years after honing my skills till an opportunity came available for me to acquire the BlindSided boat from Dan, who was trying to semi retire. I got licensed in 2017 as a captain, made the jump and took over the operation for Dan. He however is still on the boat working hard as ever and is on more trips than ever before. Dan and some of his close friends have helped pass along their wealth of knowledge on catching Lake Erie Walleye. Quite honestly, you can read all you want on fishing and it does help, but to have this group of fishermen take you under your wing and willingly teach you the ins and outs is one of the best educations ever. There is nothing that can replace actually applying what you have been told or read in a real world application. It's even better have a guy like Dan Heyne right there beside you. This fishery gives you a lot more than fillets. I have met some of the most stand up Captains and Fisherman that I am proud to call friends. I think many captains have a similar story where they started fishing this lake at a young and it just evolved into this. Or even like me, they come across this as an adult and it is unlike anything they have experienced and cannot get enough. Lake Erie fishing is just addicting.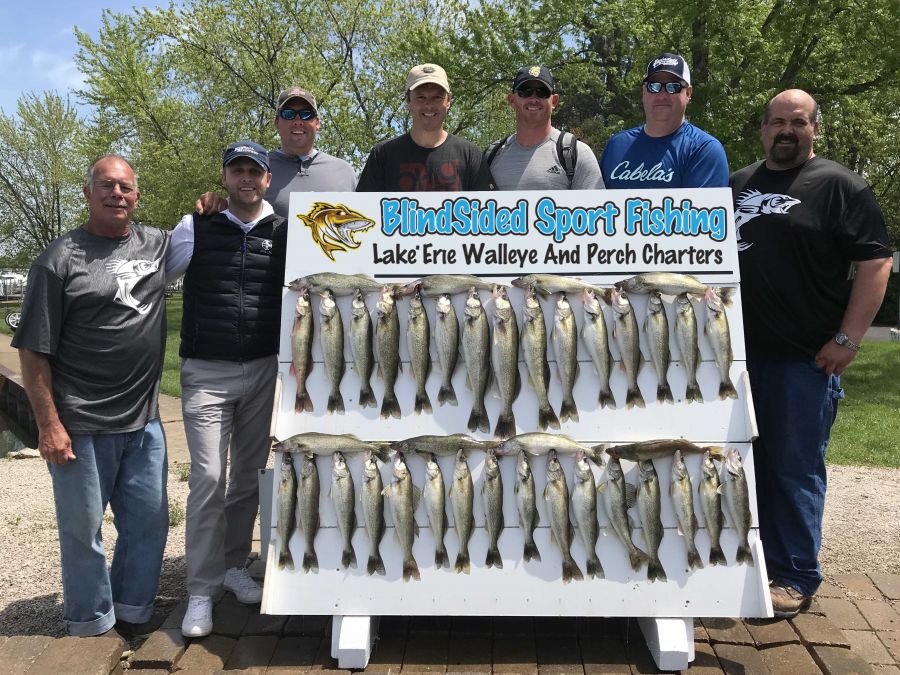 I would like to share some of our basic tactics that I was taught over my short career on how the BlindSided Boat pulls in limits of walleye all summer long. On my boat we primarily troll, using big boards and larger spreads of rods. In the early spring we troll stick baits such as Deep Bandits and Yozuris in the colder waters. We use a variety of colors, both factory and custom painted baits for these finicky fish. The color choices can change day to day along with other factors. Things such as trolling speed, direction, color, and depth play a big factor in the appearance of the bait and the most consistent captains pay close attention to these things. When you can get the right combination dialed in it's Fish On!
Things change some when water temperature approaches the 60 degree mark in the Western Basin of Lake Erie. We typically see the fish switch patterns to a more aggressive and faster spoon program. We aga use various factory and custom painted schemes. Moonshine, Michigan Stinger ,Yeck, and Franks are a few of our spoon companies of choice, however, these spoons can't do the job alone. They have to get to the right depth. The Tru-Trip Deep Divers are what puts these lures in the zone. The majority of the captains and fishermen alike depend on the deep dive curve of the Tru-Trip to pull these baits all summer long all over Lake Erie. I am always shocked when I come across someone who is not using them. It is just such a simple yet effective method of filling the cooler.
With monumental hatches the last few years, Mother Erie promises to produce fantastic fishing this year, as well as years to come. Holding true to the title "The Walleye Capital Of The World". These next few years will show such impressive catches to thousands of charter clients and fishermen across this lake. Hopefully this fishery will continue to thrive and inspire many more men, women and children to grow up and find this love for the lake, the outdoors and continue to pass it on forever just as we do.