Hey there fellow fisherman, Capt. Ronnie Rhodes here! I have been getting ready for my 2020 tournament and charter season and wanted to share some quick guidelines for safety on the water. These guidelines apply to over 16' but less than 26' powerboats (including electric engines). I highly recommend an approved boating safety course for all boat owners too. Check with your insurance company, as they may offer a discount on rates with the completion of the course.
Check your oil, impeller and gear lube. I end my season with an oil change and gear lube when I have my boat winterized. Make sure you are following your motor manufacturer's guidelines for maintenance. Stay on a schedule to reduce your chance of motor issues. I will also do a visual inspection of my boat to start the season. Check for cracks in your fiberglass boat or rivet issues in your aluminum boat. Check connections on wiring. Make sure they are secure and in good order. If you are towing your boat, check the trailer out too. Check the bulbs in your lights, check the wires here too and check the tongue for any signs of weakness.
Next, check all safety gear. Check life jackets, anchors, extinguishers, flares, whistles, flags and lights. Captain or not, you should know what you are required to have, and make sure it is good working condition. I recommend a minimum of 200 feet of anchor line and 4'/5' of chain connected to the anchor. This will help your anchor dig in certain conditions. Check expiration dates on extinguishers and flares.  Here is a link to the Ohio DNR for more information on required safety equipment http://watercraft.ohiodnr.gov/requiredequipment
Now that you have completed your safety check on your boat and necessary equipment let's briefly talk about a few guidelines that make for a safer trip on the water. Check the weather, including wind reports prior to your trip. Know your boat and know what safe and not safe conditions are for you. Tell a friend or relative where you are going and when you intend to return. If you are trailering to a launch, also include your launch site. Cell phones and VHF Radios are also rather important for contact with other boaters or if you should need assistance on the water.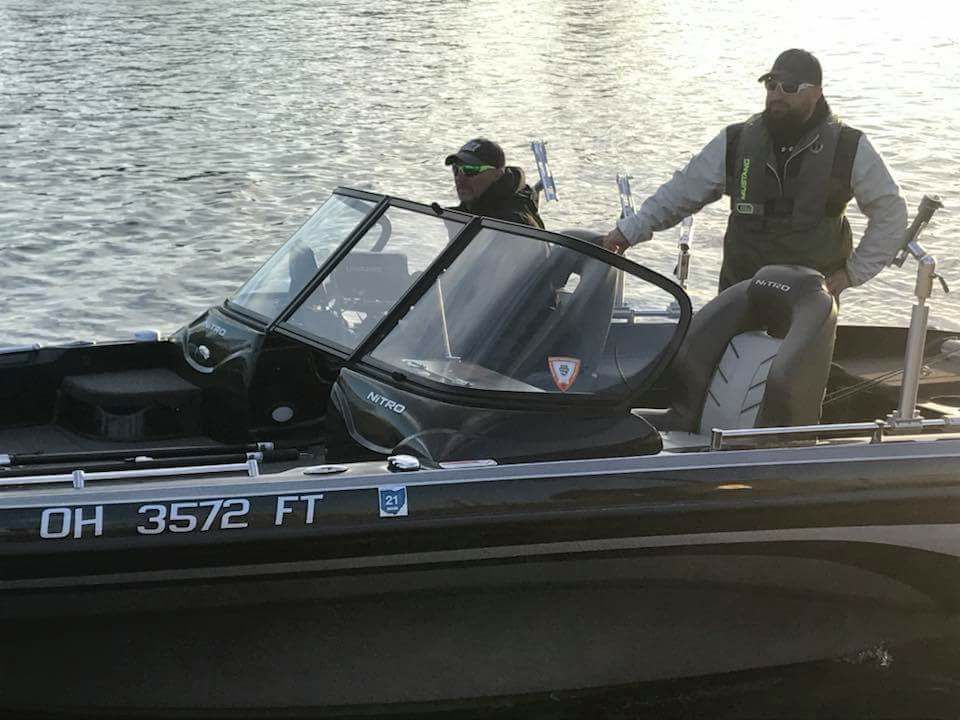 Inform your passenger's where all the safety equipment is located on your vessel. This includes how to work fire extinguishers, flares, lights and horns. Include instruction on how to work your marine radio. Show your designated person how to select Channel 16 on the VHF and transmit a MAYDAY if necessary. Instruct them on how to shut down your motor as well.
I do not allow alcohol on my boat. If you do, please remember you are responsible for all the people on your vessel! Please make sure they can follow your instructions and remain in control of themselves. While on the water, continue to monitor the weather conditions. Know the waters you are fishing. Stay within marked channels and be conscious of currents. Refer to local charts if you are in an unfamiliar area/body of water.
Once your return to dock and are off the water safely, remember to inform the person you originally contacted with your plan for the day. Maintaining equipment and safe boating practices should be a regular part of each trip. Stay safe, have fun and I will see you on the water!