Great Lakes Fishermen are enjoying the renaissance of color when it comes to their favorite fishing lures. While custom painting has been ongoing for many years, the artistry and creativity is at an all time high. Many hobbiest painters still exist, but more larger production companies have emerged. You can find many of these custom baits in the local bait shops as well. Some shops carrying products from multiple painters, and others showing loyalty to maybe just one. The custom color craze started with walleye spinners and spoons and has evolved so much in the past 10 years. Custom lure painters have put their spin on everything we use from crankbaits, trolling spoons, jigs, blade baits, flashers, and more.
Custom painters have completely taken the pressure off of lure manufacturers to constantly produce new colors of baits year after year. In fact, most lure companies have tweaked their color lineups to include clear, chrome, and white based lures knowing that the custom painters will want them in bulk for their own production. This also allows painters to transpose colors from one bait to another, or create new unique colors that no one has seen or fished before!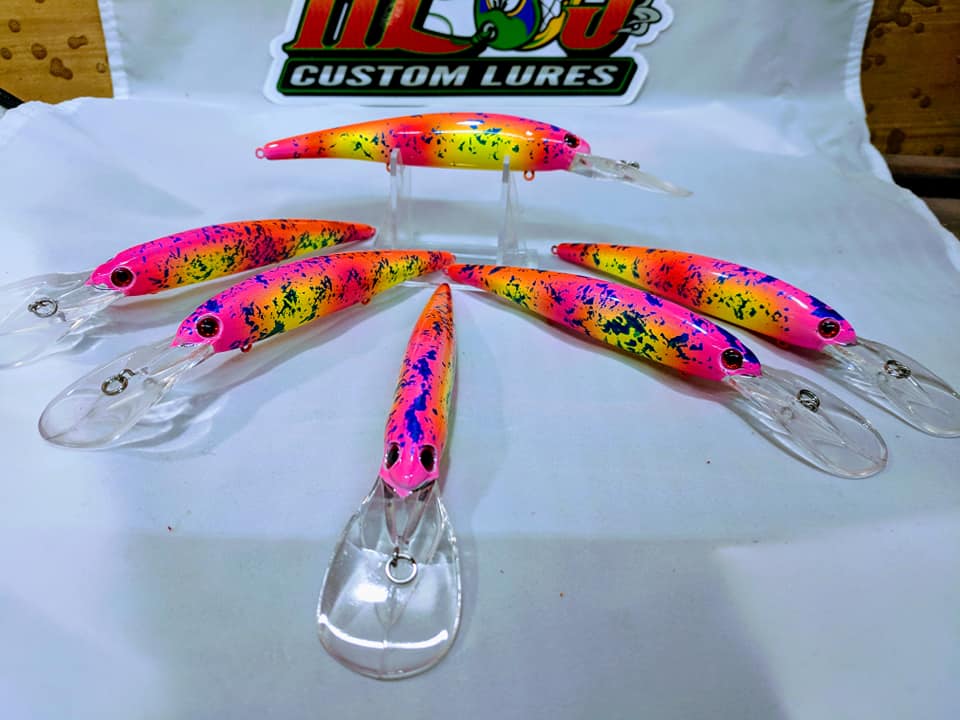 The custom painting era of fishing has produced the largest available color selection of baits since the early 1990's. Never before have you had a limitless color selection and lure styling on deep and shallow crankbaits and trolling spoons.
Capt. Chris Hoopes and brother Matt Hoopes, owners of Hoopes Line & Sinker Custom Lures, started their company as a way to earn some money in the off-season of running fishing charters. What started off as a way to keep the lights on, has bloomed into a business painting over 10,000 lures each season that are sold online, in baitshops and direct through their Facebook page. The company is hoping to hire some additional help this year to keep up with the demand. They are anticipating a growth of around 25% in 2020.
Why do we need this many colors? Does it really matter?!?
Well for one its incredibly effective to be able to take a color that produces on a certain bait in a certain color of water and bring it over to a different lure with a different profile or action. A Rapala Deep Husky Jerk has a completely different profile and wobble than a Bandit Deep Walleye Diver. There are those days where a baits action or profile make all the difference. Combining that with your favorite color scheme boosts a fisherman's confidence in that bait to new levels. Custom painted lures can give you that mental edge.
It's always nice to have something the fish haven't seen before. But more so, it is even better to have something another fisherman hasn't seen before. That is the mentality of a custom painter. Creating unique baits that catch your eye and put a very different twist on what is commonly available to the everyday fisherman. The fact that pros and charter captains are filling coolers and cashing checks doesn't hurt either. Many custom painters offer services to their clients, baitshops, charter captains, and pro anglers of making lures exactly how you want them. This input is rather valuable from guys who spend hundreds of days on the water in every condition imaginable.
You can find Hoopes Line & Sinker Custom Lures on their FACEBOOK page, Local Baitshops, and also through Jann's Netcraft.